Artist Side Guide to Using RNDR
1. Preparing an ORBX Scene
Using ORBX
The RNDR Network functions using the ORBX Scene File Format. To use the network, a scene needs to be exported as an ORBX file using OctaneRender Standalone or any of the supported OctaneRender Plugin Integrations. The scene should be configured properly and some optimization is recommended to avoid unnecessary rendering costs. It often helps to first check a scene in Octane Standalone prior to uploading to RNDR. Please consult OctaneRender Documentation for complete instructions about how to use OctaneRender and packaging ORBX Scenes.
Note: For scenes created using an Octane plugin, it is especially recommended to first check importing the ORBX scene file in OctaneRender Standalone prior to uploading it to RNDR. Importing an ORBX scene in OctaneRender Standalone allows you to confirm that there are no missing elements, and that a scene is configured correctly prior to spending RNDR tokens on a render job. If you have issues with exporting ORBX files contact support@rendertoken.com.
To check how an exported scene looks in Octane Standalone, simply to open file, choose Render Target and lock the perspective. This prevents you from accidentally moving the camera

. All of this takes couple of minutes (sometimes more if scene is very complex and loading time is longer).
2. Upload ORBX Scene for Rendering
Using Octane Standalone or any of the OctaneRender supported plugins, export your scene as an ORBX file. Then navigate to the Scenes page by clicking on the Scenes tab in the top right then click on the cloud icon and select an OctaneRender Package File (files with .orbx extensions).

Security Note: When you are uploading Scenes to RNDR, each file is encrypted during the uploading process and cannot be retrieved once on RNDR. As a result, RNDR does not fully function as cloud storage and we encourage storing a backup of your work internally.
Uploading a Scene from an Octane DCC Integration
This process varies for some OctaneRender plugins that are more deeply integrated into the Host 3D Content Creation tool. For C4D, please consult the 'Octane Cloud Rendering' section of the OctaneRender for Cinema4D manual to see how this process works for the plugin [Copyright Ahmet Oktar].
http://www.aoktar.com/octane/OCTANE%20HELP%20MANUAL.html?index.html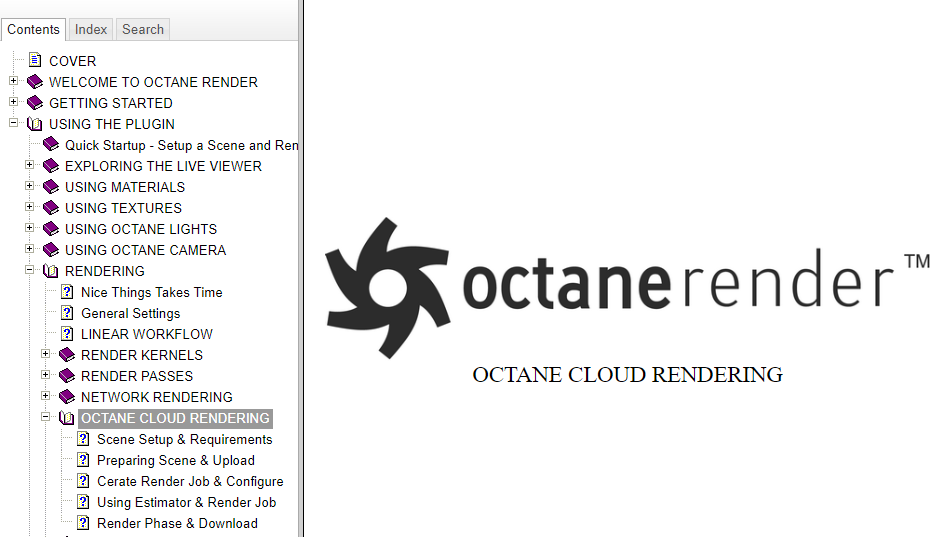 You can also see this Tutorial for exporting ORBX Scenes from C4D below
3. Create a Job Parameters for Rendering
Once you have completed this process and uploaded your Scene, you will find it on the Scenes page. There you can create Jobs, delete Scenes, or sort Scenes by either date, name, or status.
When you have a scene to render, you can create a Job. To begin this process click the 'Create a Job' button your scene. You will be redirected to the 'Create a Job' page, where will have several options.
Main parameters
# of Samples:

Just like in OctaneRender, this sets the maximum number of samples per pixel before the rendering process stops. The higher the number of samples per pixel, the cleaner the render. It is important to test your preferred sample settings prior to cloud rendering in order to find the optimal amount of samples a render requires to achieve desired results. If you set your sample settings too low you may have an unusable noisy render, and conversely, if your sample settings are too high, you may be incurring cloud rendering costs with diminishing returns.

Resolution:

This must be between 1 and up to 65000 for both width and height.

Select Frames:

Range of frames you want to render (can be single frame, a range, or mix of ranges)

Output:

You have several options for the Format and the Output Naming Format. To change the format, simply click on the format you want. To change the Output Naming Format just enter one or more of the Output Naming Options in the field on the left.
4. Estimating Job Costs Prior to Rendering
Artists are able to generate a cost estimate for a render by providing their local hardware's OctaneBench (OB) score and the time it takes to render one frame before sending the render job out to the network. This is to avoid final job cost exceeding the amount of tokens that were temporarily held for rendering. If the amount of work exceeds the amount of tokens in your account, a render will be paused and you will be prompted to add more tokens into your account.
To generate a RNDR estimate, download the latest version of OctaneBench: http://octanebench.com and run the application to get your system's OctaneBench score. Then render a single frame or range of frames from your scene, to see how long a frame takes to render. It is recommended to render the most complex frames from a scene in order to generate an upper bound of rendering times.
It is important to note that estimates are just an approximation, as there are often significant frame to frame disparities in rendering work that cannot be projected prior to completing rendering work. Working off an upper bound, limits the potential that your rendering costs will exceed the amount of tokens you have in your account.
Please consult the Genesis Mainnet FAQ and Release Blog Post for more information about Approving and Downloading frames.